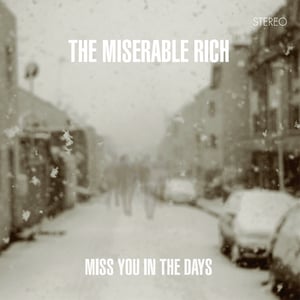 £

9.00
On CD or Vinyl
Other formats: MP3/FLAC



'with this third album they've produced something of a masterpiece' The WORD
'deserves to eat your soul on the long, burning road to Hell'
BBC Online
Tinkering with a winning formula can be a dangerous tactic, but after two critically lauded albums and three years of touring, The Miserable Rich decided that their third album warranted a different approach. So they holed themselves up in a stately home in Norfolk to write and record, bringing in a recording engineer and a drummer. Blickling Hall, the haunted ancestral home of the Boleyn family, provided the setting, and they spent a dark, bitter month isolated from the outside world, putting together the new tracks.
Miss You In The Days adds drums, electric guitar and piano to the band's more recognisable core of violin, cello and double bass, achieving the desired heavier, more rhythmic sound (yes, now you can dance to The Miserable Rich!), and lyrically the songs play with themes of sex, death and possession.
The resultant album was first unveiled at Halloween 2011 to immediate critical acclaim at home, in Europe and across the internet, making several critics' top tens of the year. It is now available with three extra tracks - band favourites from the sessions that were just not finished in tome for its release.
'Like Beirut hosting a Wuthering Heights theme Halloween party, it's a record that grows goose-bumps in the night... and so much more. It deserves to make The Miserable Rich leading players in a chamber pop movement in rude health... It deserves a Mercury Prize nod. And it deserves to eat your soul on the long, burning road to Hell.'
Mark Beaumont, BBC Online
'TMR produce consistently beautiful, haunting music, and with this third album they've produced something of a masterpiece - sounds like the house band for Mary Shelley's hen night'
The WORD
'playful, eloquent and sweepingly romantic'
The Digital Fix
---
Tracklisting:
1. Laid Up In Lavender
2. Imperial Lines
3. Tramps
4. Honesty
5. Ringing The Changes
6. The China Shop Of Dreams
7. On A Certain NIght
8. Under Glass
9. Pillion
10. True Love
11. In The Attic
(hidden)
Now includes the bonus EP
'Miss You More'
---
Tracklisting:
1. Under Glass
(radio edit)
2. Lighthouse
3. Fear of The Dark (Oh! Polyanna!)
4. The Telephone